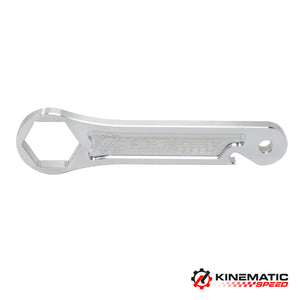 Oil change time? Knock out your maintenance and crack a frosty beverage with the handy dandy KinematicSpeed 36mm wrench and bottle opener. CNC machined from a solid billet of 6061-T6 Aluminum right here at KinematicSpeed HQ. 
Tech Specs:
Wrench Size: 36mm
Overall Length: 8"
Material: 6061 Aluminum
Fits E36 M52 (w/ plastic housing cap), E46 M54, E90/2 S65 as well as other BMW, Porsche, Mini, and VW applications utilizing 36mm oil filter housings. Check for clearance to turn wrench in your application.